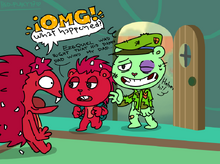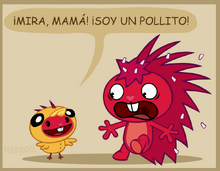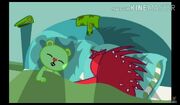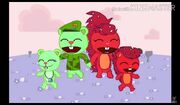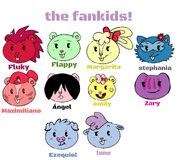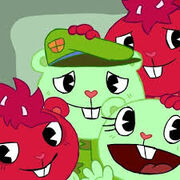 Fluky is created by HedgeFlak03 from Deviantart
He is the fankid of Flaky and Flippy.
Appearance: he has light crimson fur, a crimson hair, fire brick quills, atomic orange ears, atomic orange belly marking, atomic orange soles and white flakes.
It's a porcupine red with bear ears. Is the son of Flippy and Flaky
He is a very naughty chid, very heavy and loves to make a joke. He loves to play brutally and annoy other people, especially his sister Flappy. He likes thousands of beautiful girls. His best friend is Maximiliano, They always do together to make a joke. Sometimes thay make Tommy and other nerdy children bulliyng… It is very hard, but at times it is very respectable, it behaves well and very calm.
He never knows what a love is. He is very upset to learn that his best friend Maxi is in love with his own sister. But he will understand in time it is a love.
Which he hates so much: that his mother (Flaky) worries a lot about him, see his sad sister, broccoli
Note: originally he was a girl, but I decided to change it. because it does not look good with being a girl
Personality: Heavy, fun and a little brutal
Species: puercoespin/hedgehog
Likes: annoy his sister Flappy, the sexy girls
Dislikes: that his mother (Flaky) worries a lot about him, punishment, Ezequiel
Friends: Maximiliano (best friend), Margarita 
Enemies: Ezequiel, Flappy (but but he still wants her), Wiston
Crush: Pretty girls or Margarita(?
Gender: male
Sexuality: Hetero(?
Fears: slipper, punishment of his father
Family: Flaky (mother), Flippy (father), Flappy (sister) and Shane (brother)